Noise suppression measures for FPC edge faces
Shielding film for high speed signal transmission FPC (wrapping)
WILMINA®SF-PC®4300-Z2-C
SP

PC/Tablet

AUTO

TV

Other
Overview
By replacing coaxial cables with FPC, thinning of smartphones and other advanced electronic devices has progressed. On the other hand, since the perimeter of FPC cannot be shielded like coaxial cables, there is concern about radiation noise from edges. The SF-PC4300-Z2-C is a shielding film that can also shield radiation noise from the edges of FPC by covering its perimeter as the film is bonded to both sides of FPC.
● Electromagnetic field strength distribution measurement results (@2.5GHz)
As shown above, a shield effect is also demonstrated on the edge faces of FPC.
● Cross-section (the SF-PC4300-Z2-C after press)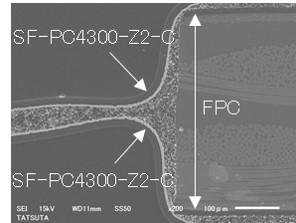 * Above data and numerical values are all actual measurement values, not guaranteed values.
Inquiries