EMI shielding film
Shielding film for high-speed signal transmission FPC (high shield performance/shape retention)
WILMINA®
SF-PC®3100-C
SF-PC®3300-C
SP

PC/Tablet

AUTO

TV

Other
UL94 V-0 (combined with Kapton50H)
* Kapton® is a registered trademark of DuPont in the U.S.
Product Overview
With the launch of the new 5G communication standard, the rapid spread of electronic devices capable of radio frequency/high-speed signal transmission is expected to explode. In connection with this, measures that suppress noise from inside and outside are essential for FPC used in such electronic devices. The SF-PC3100-C and SF-PC3300-C offers top-class shield performance among all TATSUTA products, and can be used as noise suppression measures in high frequency ranges.
Features
High shield performance and high-speed signal transmission capability

Model
Shield effectiveness
Insertion loss
1GHZ
10GHZ
1GHZ
10GHz
SF-PC3100-C
Over 100dB
Over 110dB
Below 2dB
Below 8dB
SF-PC3300-C
Over 80dB
Over 90dB
Below 2dB
Below 8dB

Shape retention property

For the SF-PC3100-C, 5.5μm RA Cu foil is adopted to suppress spring-back of FPC during and after incorporation of FPC.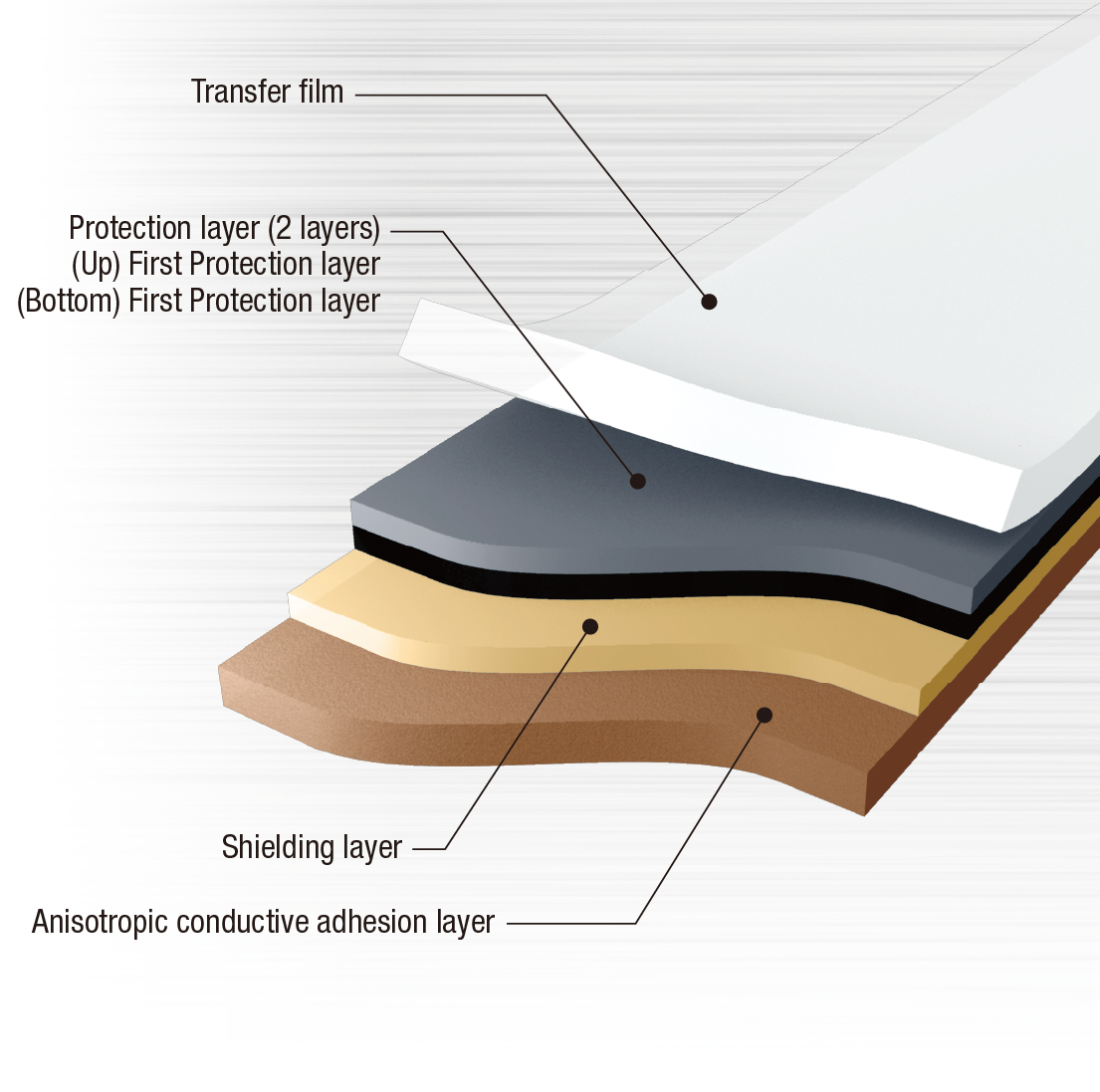 Main specifications
Item
SF-PC3100-C
SF-PC3300-C
Thickness Transfer film
50μm (transparent)
50μm (transparent)
Total thickness (after press)
 
20μm
17μm
Protection layer
5μm
6μm
Shielding layer
5.5μm
2μm
Anisotropic conductive adhesion layer
9μm
9μm
Peeling strength
Over 3.0N/cm
Over 3.0N/cm
Shelf life (keep cool)
6 months
6 months
Examples of Use
Reference data
* Above data and numerical values are all actual measurement values, not guaranteed values.
Related Products
Inquiries